Articipate offers diverse programs from many artistic disciplines.
We seek artist educators that can demonstrate technical and creative mastery of their art form. They must be able to engage participants of any age enough to leave a lasting impact and inspire personal action. Experience, community involvement, leadership and references are all considered when recruiting new artist educators. Program development is done in collaboration with artists, Articipate's education and program directors, our board of directors, partner organizations and community members. We offer 8-week after school and summer programs, in-school performances with a variety of educational resources available to teachers and administrators, and weekend or 1-day workshops year-round. We want everyone to have a chance to participate. Apply for a scholarship if you need financial assistance for Articipate or other local arts programs.
Wooden Rain Drops
A youth marimba group for ages 6-14 that teaches the skills required to interact in a collaborative group and produce high quality performances in our community.
Wooden Rain
Articipate's latest exciting program! Wooden Rain is a marimba band for adults that teaches the skills necessary to perform in this great new dance band. Learn more about the marimba here!
Leon Joseph Littlebird
In addition to performing on world class stages as a musician, Leon Joseph Littlebird brings his songs and stories to schools to amaze and delight children of all ages.
WoW (Words of Wisdom)
A fusion of secular idioms, music and technology that introduces kids to simple proverbial concepts such as; "Don't judge a book by its cover" and "If at first you don't succeed, try, try again". Bones, Justin Allison and Jeff Shook provide audiences with vocals, guitars, steeldrum and a video presentation that blends powerpoint with live video and pre-recorded graphics to create a truly valuable and engaging educational program.
Bones Solo Ensemble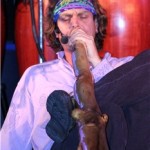 The attraction of the drum is universal! Bones uses over 15 different drums and vocals in up to 5 different languages along with melodic instruments from around the world including the Marimba, Steel Drum, Didgeridoo and Guitar, to convey his message of tolerance and cultural diversity. Using cutting edge technology, Bones creates the sound of an entire ensemble in front of his audiences enhanced by the use of Google Earth, live video, computer graphics and lights. Bones' programs come with complete lesson plans that align to state education standards in 5 subjects. Visit www.bonesdrums.com for lesson plans, instrument descriptions and music!